Zoom Login Information Error for Instructors
Details

This guide only concerns instructors who have e-mail addresses as name.surname@mef.edu.tr on their Zoom Invitation mail.
As we experience an alternative way to creating online sessions on Blackboard with Zoom it has been detected that some instructors may face with a particular problem when logging in.
The e-mail information assigned to the Blackboard system by SIS differs among some instructors. For instance, as an instructor you may use surname+letter@mef.edu.tr for everyday occasions but on Blackboard your MEF e-mail can be name+surname@mef.edu.tr which creates little confusion.
Here is what you should to do:
Just consider the e-mail address in the Zoom Pro mail invitation that we sent you and log in with that information in your Zoom panel on Blackboard. Follow the steps below:
Click on the invitation link,
Click on Sing Up with a password,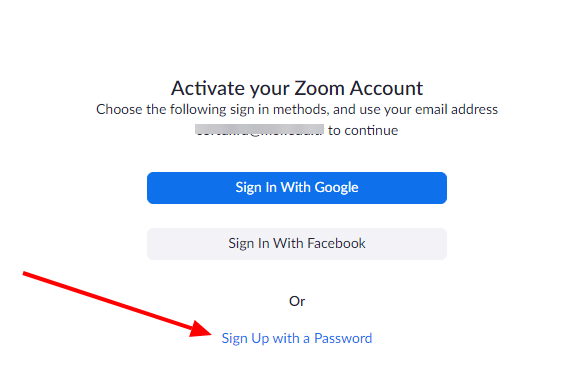 Type "e-mail address specified in the Zoom Pro activation mail" to email / username and set a password.
If you login not with the e-mail address specified in the e-mail sent to you, but with another MEF e-mail that you frequently use, the sessions you create, your saved settings, and your call durations will be disrupted.
That's it.
You can then create sessions on the Blackboard by following the steps in the guide below.
---
---