Huawei ICT Academy Create an Account and Enroll to a Course
Huawei ICT Academy Create an Account
What is Huawei ICT Academy?

The program aims to act as a bridge between industry and academia within the scope of training and developing new talents. In addition to the Huawei certificate, students participating in the program will have the chance to attend master classes, seminars, competitions and similar events in Turkey and around the world. Participating students also; It will also have access to the latest online Huawei resources on 5G, artificial intelligence, IoT and cloud computing technologies.
Full Summary Video
Go to the Huawei Talent website [1].
Click on Log in [2].
Register [3].
Fill in your information [4].
You must write your MEF mail.
Than click Register [5].
After registration, an e-mail will be sent to your e-mail address. Check your mailbox to activate your Huawei account.
Click the link to activate [6].
Go to Huawei Talent website again [1].
Click on Log in [2].
Click on Log in [4].
If Email verification is required, click on Get Code [4] and check your mailbox. Then Verify.
Associate to ICT Academy
Click on Your ID [1] and "My Information" [2].
Click on Select Role [3].
Fill in Role Information.
My Role: ICT Academy, ICT Academy Student.
Country: Turkey
My Academy: MEF University
You can choose MY Academy with the Select button [4].
Then you can click on the Save button.

Before you select universty be sure that Country is selected.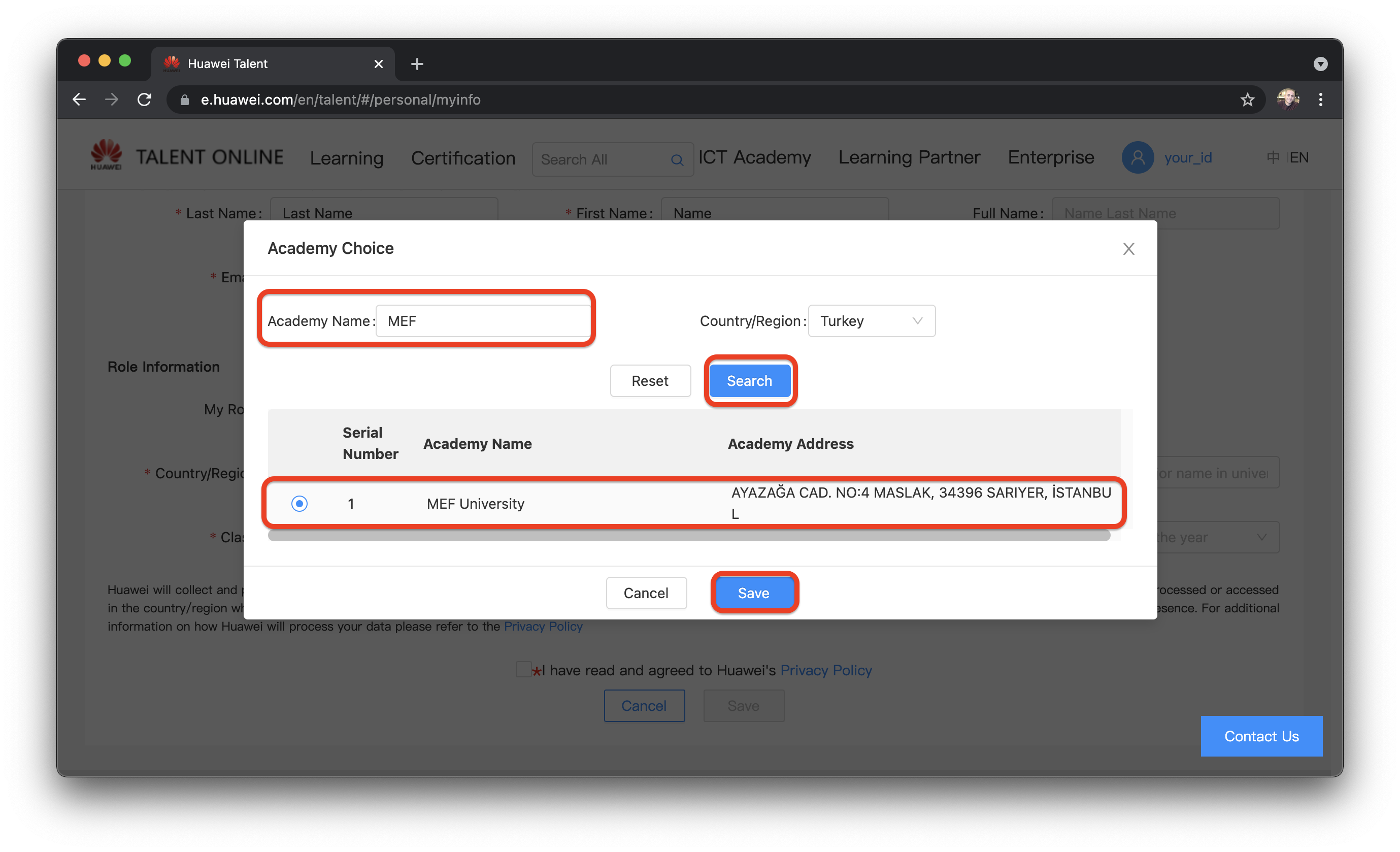 Your application will be submitted to administrator BB Support for approval.
Confirmed when Pending text is removed.
Enroll in a Course
Go to Huawei Talent website.
Click on Learning [1].
You can choose a course from Course List.
Click on Enroll Now [2].
A new window will open. You must write your name and surname.
When you Confirm, The course will be enrolled. you can View Course [4].
That's all!
---
---